Skip to Content
IV Therapy in Woodlands, TX
IV Nutrient Therapy at Houston Wellness Center
Nutrient deprivation is an unfortunate reality we all face. In today's world, we are plagued by whole foods grown in insufficient soil while living in a high-stress atmosphere in which we are overworked, exhausted, and dehydrated more often than not, which compromises our body's ability to absorb vital nutrients.
This is where IV nutrient therapy comes in. Houston Wellness Center offers a range of IV drip therapy solutions that account for the nutrients and hydration our bodies lack. With an array of treatment options and compassionate wellness experts, Houston Wellness Center is here to help you reclaim control and feel your best!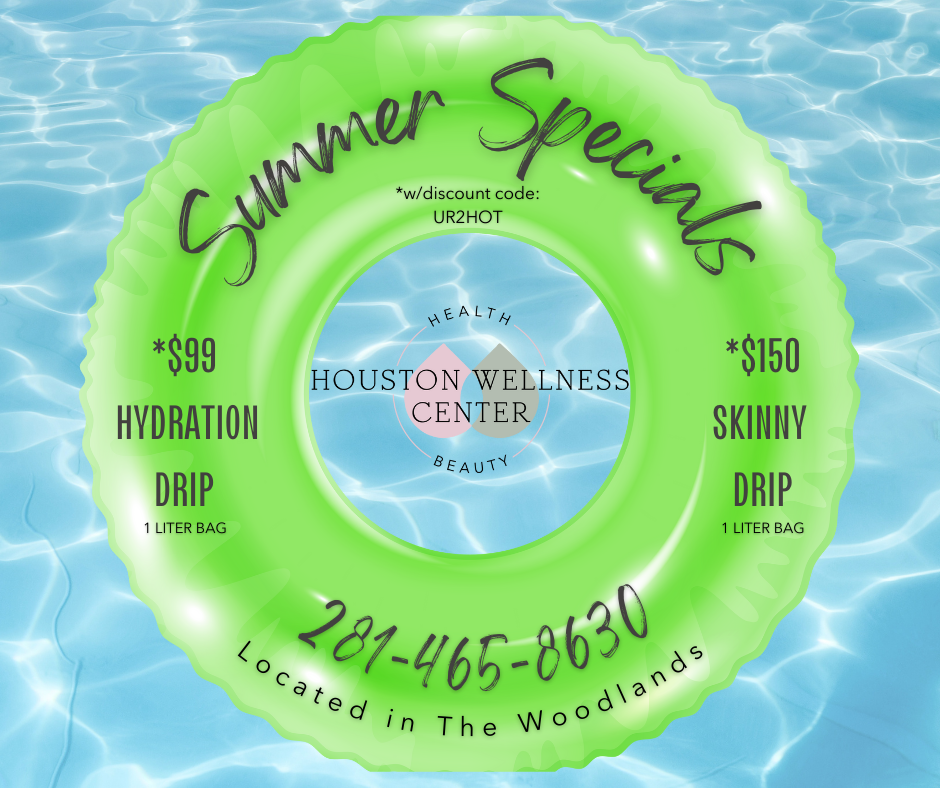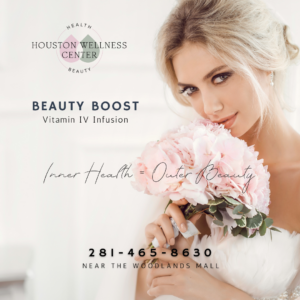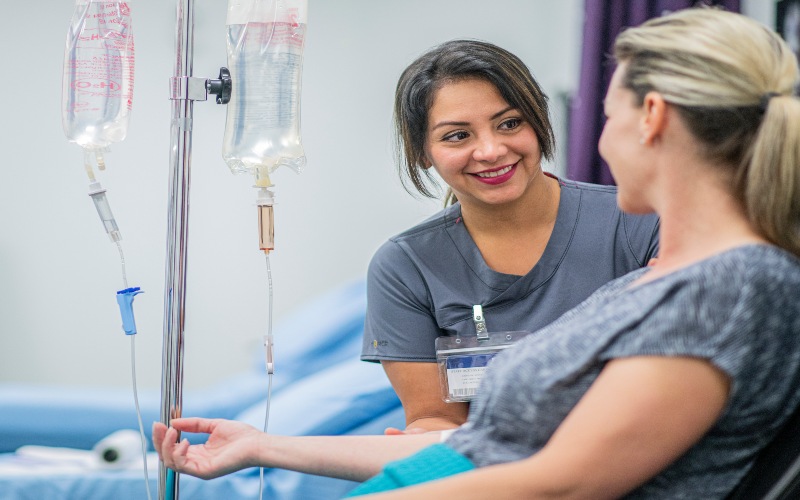 What Is IV Therapy?
IV therapy is a treatment that enables the body to receive essential vitamins, electrolytes, minerals, hydration, and amino acids into the bloodstream, allowing the nutrients to penetrate at the cellular level. These nutrients play a vital role in supporting overall health and wellness, as without these necessary elements, our bodies cannot function as they are intended to.
Due to IV drip therapy delivering nutrients directly into the bloodstream, the body can absorb them more quickly and effectively than if they were taken orally. This can be especially helpful for people with digestive issues or other conditions that interfere with nutrient absorption.
How Does IV Infusion Therapy Work?
Even the most fulfilling diets can leave you lacking essential nutrients, as our bodies do not always adequately absorb them. However, IV infusion therapy ensures your body gets what it needs to thrive. Depending on your needed nutrients, a personalized IV drip will be selected and administered intravenously, directing the nutrients into your bloodstream for maximum absorption.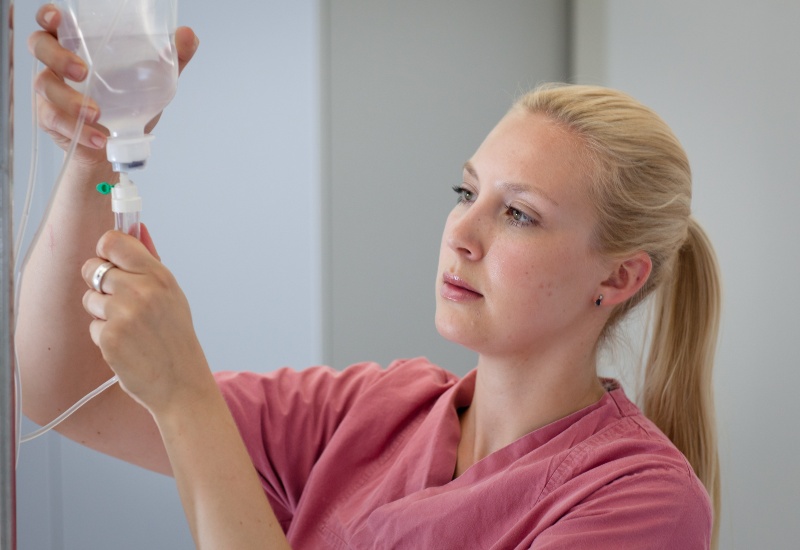 Benefits of Nutritional IV Drip Therapy
Whether you suffer from debilitating health conditions, need an immediate hangover cure, or want to indulge in a healthier lifestyle, IV nutrition therapy can guide you on the path to feeling your best. The benefits of IV drip therapy include the following:
Reduced inflammation
Heightened energy levels
A more resilient immune system
Decreased allergies
Improved mood
Balanced body and mind
Relief from uncomfortable symptoms
Convenient and comfortable
Houston Wellness Center IV Treatment
Tap into your body's full healing potential with pharmaceutical-grade IV drip serums, each crafted to address a specific need. We have everything from hydration drips that include specialty fluids and electrolytes to rehydrate the body and restore balance to revitalizing anti-aging serums, hangover drips, and beyond.
Our IV Drip Formulas
Choose from our array of signature infusions, all proven to deliver fantastic results, such as:
Hydration Drip
Anti-Stress Drip
Migraine Drip
Hangover Drip
Endurance Drip
Skinny Drip
Ultimate Immunity Drip
Libido Enhancer
Fountain of Youth
Beauty Boost
Myer's Cocktail
Our wellness professionals can work with you to develop a customized IV drip therapy treatment plan that encompasses the areas of your health and wellness you want to optimize.
Best Vitamin IV Drip Therapy for Optimal Health
At Houston Wellness Center, we personalize your IV nutrient therapy. Our treatments are designed to be customized to target the source of your health concerns rather than just addressing the symptoms. By tailoring treatment plans to specific health needs and goals, patients benefit from therapeutic outcomes, such as extended relief from certain diseases and conditions.
Common Health Concerns
Our patients come from all different walks of life. Our IV drip therapy is effective for patients struggling with health concerns, including:
Respiratory issues
Migraines and headaches
Withdrawal from narcotics
Fibromyalgia
Chronic fatigue
Chronic depression
Cardiovascular disease
Hypothyroidism
Chronic or acute muscle spasms
Stubborn injuries or wounds
Improving Your Overall Health and Wellness
Our IV nutrient therapy is not limited to individuals with acute or chronic conditions. IV therapy is an excellent way to improve your overall health and well-being. These treatments can be tailored to boost immunity, help you fight off the flu or common cold, promote detoxification, and enhance your athletic abilities. They have even been known to resolve the burden of a leaky gut!
Convenient and Effective Nourishment
Day-to-day life can be overwhelming. Between your duties at home, your work, and making time for leisurely activities, you may find yourself grabbing a quick bite while on the go or throwing together a meal that may not include the vital nutrients your body needs.
Houston Wellness Center's IV drip therapy is a seamless addition to your busy life. Our IV nutrient therapies can be administered quickly, making them a convenient treatment option for active individuals who want to prioritize their well-being without sacrifice.
World-Class Wellness Treatment
At Houston Wellness Center, you can expect personalized care and attention from the moment you walk through our door. Our experienced and knowledgeable practitioners will work with you to determine the best course of treatment based on your wellness aspirations.
Our doctor-owned and operated practice is one of The Woodland's premier wellness facilities, offering premium treatments and expert care. We follow strict safety guidelines and standards to ensure our patients receive quality treatment.
Schedule Your Wellness Consultation
Take charge of your health and start your wellness journey with Houston Wellness Center. Whether you are looking to boost your energy, support your immune system, address a specific health concern, or relax and unwind, the team at Houston Wellness Center can help you achieve your objectives. Contact us today to set up your membership package, or schedule your consultation today!
Schedule an Appointment Today